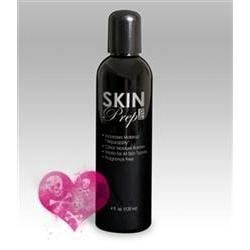 Mehron Skin Prep Pro
---
Helps increase the wearability and staying power of makeup and face and body paint under high-performance conditions.

 
Use for beauty or face painting art, SKIN Prep PRO is a clear, fragrance-free liquid for use on all skin types prior to makeup application. It will allow makeup to remain longer lasting under stressful performance conditions. SKIN Prep PRO acts as a moisture barrier between your skin and the makeup you wear giving you a longer lasting fresh look under the most extreme conditions.

 
Perfect for high heat and humid climates. Does not sting the face like many body art sweat barriers and fixing sprays can on some people. Washes off with soap and water.