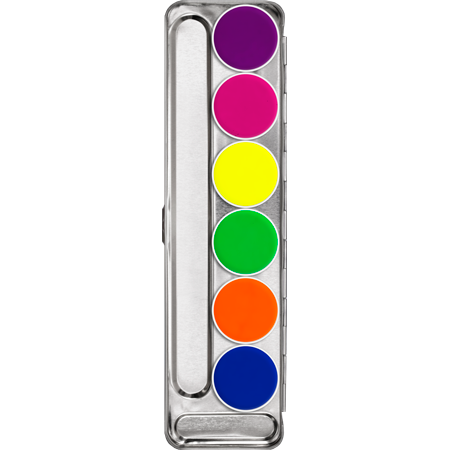 Kryolan Aquacolor DayGlow UV Palette
---
Aquacolor UV Dayglow for neon UV reactive effects face and body paint makeup. Aquacolor has good covering characteristics and is easily applied with a damp sponge or brush. Day glowing in normal lighting, color intensify under UV- lighting. Six colors, easily remove with soap and water. 

UV Pink, UV Orange, UV Green, UV Yellow, UV Blue, UV Violet.


Pair this palette with Kryolan Pressed Powder Palette in UV colors to add pop and staying power.

These used special fluorescent pigments are intended for special effects and are not colors in the sense of the FDA, German and European Regulation of the European Parliament and of the Council. These products are not intended for cosmetic use, but have been successfully tested in a university hospital for their safety.